February 2017 | Courtney Doctor – From Garden to Glory

Author Courtney Doctor spoke to us from her book From Garden to Glory at our annual Women's Conference that took place February 2017. According to the book description at www.courtneydoctor.org/from-garden-to-glory/, "The Bible, from Genesis to Revelation, is a beautiful, epic, and cohesive story. It is the story of how our eternal God is on a grand mission to redeem and restore his rebellious and wayward children. But it is not a story meant to merely inform us. The story itself is meant to transform us and invite us to participate in this glorious redemption of all things!"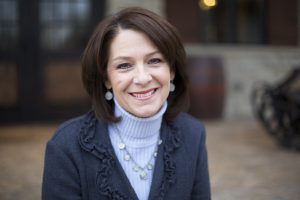 Courtney Doctor received an MDiv from Covenant Theological Seminary in 2013 and currently serves as the Director of Women's Ministry at the Kirk of the Hills in St. Louis, MO. Her desire is to study, teach, and apply well the word of God. She is a Bible teacher, a conference and retreat speaker, and the author of From Garden to Glory; a Bible Study on the Bible's Story (CDM 2016). Courtney has a love for education and is on the board of directors for Providence Classical Christian Academy in St. Louis as well as the advisory board for Covenant College in Lookout Mountain, GA. Her husband, Craig, is also on staff at the Kirk of the Hills as the Pastor of Men's Ministry and Administration. They have four children—Austin, Bradon, Shelby, and Rebecca—and two amazing daughter-in-laws—Ruth and Jordan.
Conference Audio
---
Past Women's Conferences
February 2016 – Side by Side: Living, Loving and Connecting as Women of God
Kathi Bishop, Vice-President and co-founder of Biblical Counseling of Arizona, along with Vicki Diemert, a counselor for Biblical Counseling of Arizona came to share how to come alongside each other to live, love and connect as women of God.
Conference Audio
---
February 2015 – Extravagant Grace
Author and Speaker Barbara R. Duguid
Author, Counselor and Speaker, Barbara Duguid speaks from her book Extravagant Grace in a four part series. Within the 4 sessions, Duguid addresses difficult questions such as What if growing in grace is more about humility, dependence, and exalting Christ than it is about defeating sin?, Why do Christians—even mature Christians—still sin so often? Why doesn't God set us free? We seem to notice more sin in our lives all the time, and we wonder if our progress is a constant disappointment to God. Where is the joy and peace we read about in the Bible?
Barbara R. Duguid  is a counselor and ministry assistant at Christ Presbyterian Church (ARP) in Grove City, Pennsylvania, where she crafts the weekly liturgy.  She is a pastor's wife and the mother of six children, and she holds an advanced certificate in biblical counseling from the Christian Counseling and Educational Foundation in Glenside, Pennsylvania.
Conference Audio
---
 2014 – We Are the Beloved and the Fullness of God
Speaker Hope Blanton
We Are the Beloved and the Fullness of God, a study on the book of Ephesians, challenges how the Lord calls us and sees us as His beloved. That He wants us to hide in this truth, instead of all the other places and things that our heart wants to hide in. The call of the beloved is for a deep, safe relationship with him and a call to prayer.
Hope, her husband Ray, and their three children Cana, Thea, and Nias moved to Lincoln in July of 2011 for Ray to get a PhD at University of Nebraska. Prior to becoming the Women's Ministry Equipper at Redeemer in Lincoln, Hope spent years counseling at-risk youth in Philadelphia, providing postpartum and breastfeeding education to new moms in Austin, and staying home with her three children. Born in southern Illinois, Hope spent most of her childhood in a suburb of Dallas later attending Texas Christian University and Temple University getting a bachelor's and masters in clinical social work.  Along the way she has lived in five different states, four different college residence halls (three of which when she was married with children), and helped run a church youth group while also being the church janitor.
---
2013 – Living a Leviticus Life
Author and Speaker Britta Lafont
Obedience is hard, because our hearts of flesh often rebel against discipline. But since we are called, by God, to holiness, how can we ever please Him? Jesus summarizes the Law as this: we must love God and love our neighbor.  But He also makes it possible to do this.  God's love, poured out through the life, death and resurrection of Jesus makes holiness and obedience possible for us.  After His Spirit comes to dwell within us, His boundless grace and love grow in us a gratitude that provokes a reciprocal response: we love because He first loved us. Obedience then can become our love offering.
Britta Lafont is a sojourner. She was a military kid and is a military wife, now living in the high desert of Arizona and far, far from her New Orleans family. She happily homeschools and one of her favorite hobbies is snuggling on the couch reading history and literature with 12-year-old Gracie and 10-year-old Josh. Britta and her husband Scott recently celebrated their 20th Anniversary. Britta writes about the intersection of God's Word and her world at Britta Lafont ~ Everyday Holiness (brittalafont.com).