In addition to giving by check or personal bank bill pay, for your convenience online giving is now available by clicking on the Donate button below, (also located in the footer section of the website). Although King of Kings is using PayPal for managing online giving, it is not required to have a PayPal account to donate.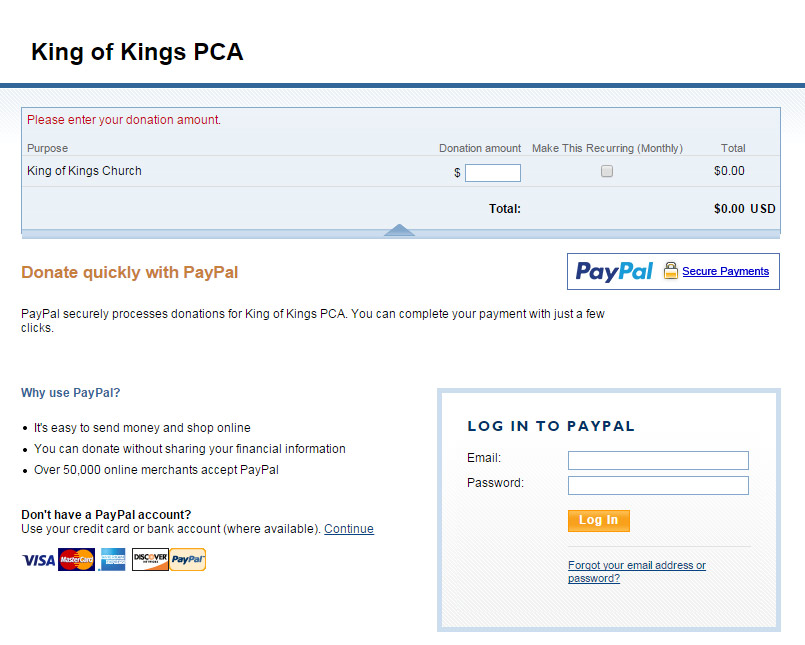 Clicking on the "Donate" button will bring you to a PayPal donation page (see image) where you input an amount and then choose to login to your PayPal account or pay by credit card. You also have the option to setup a recurring monthly payment. After logging in you'll have the option to provide special instructions for your donation. The donation will be assumed to be used for general giving unless otherwise specified (ex. women's conference, building fund, etc).
Additionally, you can transfer money from your PayPal account at www.paypal.com by logging in and choosing "Send and Request" followed by "Pay for Goods and Services" at which point you'll be prompted for the email/mobile number to transfer the money to and an amount. Input "giving@kkchurch.org" for the email, and input the desired amount. Once submitted you'll be offered the option to choose from accounts you have setup and you may designate any special instructions at that time. You can also use the PayPal app on your phone or tablet to transfer money to "giving@kkchurch.org".